AAA archives
The Auto Club & the California Highway Patrol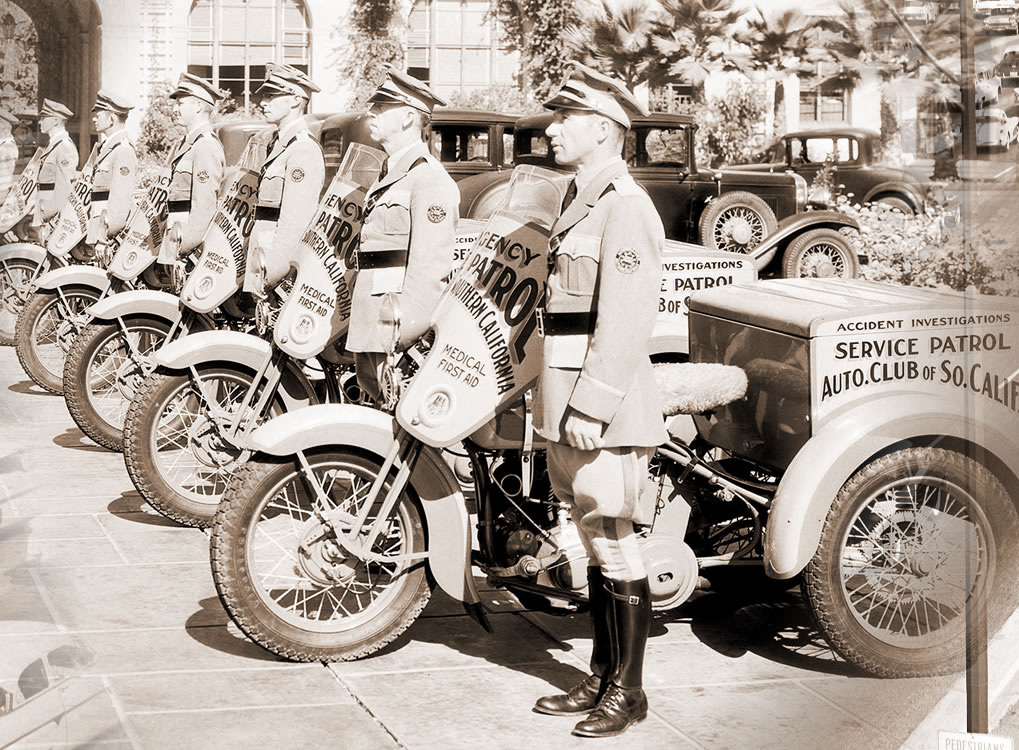 Keeping roads & motorists safe
The Automobile Club of Southern California and the California Highway Patrol share a mission: keeping roads safe for motorists. The histories of these organizations have been intertwined since the CHP was founded in 1929.
The early years of motoring were far different from today, and not necessarily better, as each local government established its own rules of the road and had its own system of enforcing them. The Auto Club challenged this inconsistent enforcement of traffic laws in a series of lawsuits in the early 20th century, and in 1920 the California Supreme Court gave the state government the final word on traffic regulation. In 1923, the California Vehicle Act, which included regulations drafted by Auto Club attorneys, was established.
In 1924, the Auto Club established its own Highway Patrol Service to aid stranded motorists, repair street signs, sweep up broken glass, and assist with recovery efforts. At the same time, the state's high court forbade counties from hiring their own traffic officers. State legislators tried to assist local law enforcement but couldn't create a system accepted among most California communities. Eventually, they agreed with county commissioners, city police officials, and the Auto Club that California needed a statewide agency to enforce motoring laws. In 1929, the state established the CHP as a division of the Department of Motor Vehicles.
The Auto Club agreed that the term "highway patrol" was appropriate for the new agency and relinquished the name. This marked the beginning of cooperative efforts between the organizations. In 1947, the Auto Club backed the establishment of the CHP as an independent agency, separate from the Department of Motor Vehicles.
The organizations also agreed on the need to improve traffic safety. In 1998, they worked together to win passage of the graduated driver license law, which requires teens to gain experience behind the wheel before obtaining a full license. A 2013 Auto Club analysis showed that at-fault fatal and injury crashes for 16-year-old drivers declined 68% since the law took effect. The drop was 51% among 17-year-olds.
More recent collaborative efforts include sponsoring legislation requiring child passenger safety seats, raising awareness of distracted driving, and honoring law enforcement officers for recovering stolen vehicles. To thank and assist the CHP officers who keep our roads safe, the Auto Club entered into a 10-year agreement with the CHP 11-99 Foundation to benefit its scholarship program.
The Auto Club and the CHP have worked together for decades to keep California motorists safe and will continue to do so for decades more.