Auto Club history
Serving members for more than 100 years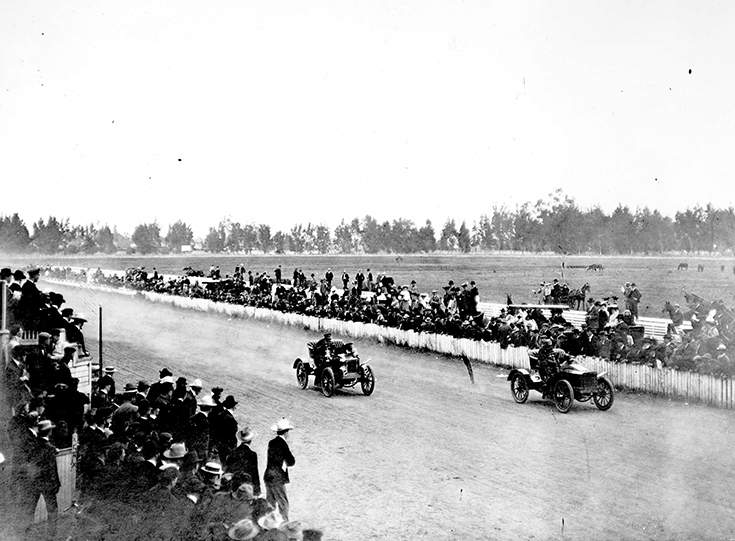 The history of the Auto Club
The Automobile Club of Southern California was founded in 1900 by 10 Los Angeles-area businessmen and professionals. Over the years, the Auto Club has expanded to offer membership, insurance, travel, discounts, financial, and of course automotive services to more than 7 million members. Learn about some of the Auto Club's highlighted achievements over the decades.
1900 - The Auto Club was founded.

1906 - Auto Club started posting directional signs on California roads.

1908 - Auto Club began issuing license plates as an agent of the State of California.

1909 - Auto Club issued its first maps and Touring Topics, the member magazine.
1912 - Affiliate Inter-Insurance Exchange began to offer insurance to Auto Club members.
1913 - The first Auto Club branch office opened in San Diego.
1914 to 1915 - Auto Club mounted signs to mark the National Old Trails Road, later known as Route 66.
1916 - The Forwarding Department was established to ship members' cars and later expanded to travel services.
1921 - Public Safety Department formed to educate students on traffic safety.
1923 - Auto Club Headquarters building opened at Adams Boulevard and Figueroa Street in Los Angeles.
1924 - Emergency Road Service started as Highway Patrol Service and later expanded to include towing.
1928 – The member magazine magazine began commissioning original art for the cover.
1934 - Touring Topics was renamed Westways to signify its broader cultural mission.
1937 - Auto Club engineer Ernest East proposed a network of freeways for Los Angeles.
1938 - Auto Club provided registrations for more than 170,000 member vehicles.
1941 to 1945 - During World War ll, the Auto Club provided special maps to the military, sponsored scrap drives, promoted war bonds, and guaranteed the jobs of its employees who were called to military service.
1946 - Westways resumed its cover-art program, showcasing the vibrant California watercolor movement.

1956 to 1959 - Auto Club opened 18 new branch offices to accommodate the boom in population and membership.
1957 - Foreign and Domestic Travel Department formed.
1963 - Auto Club conducted emissions tests on 1,000 cars in cooperation with the California Motor Vehicle Pollution Control Board.
1967 - Automotive Research Center opened to study vehicle emissions and performance.
1968 - With rapid construction of new locations, Auto Club reached 78 branch offices.
1970 - Auto Club began rating car-repair facilities, a service that became the Approved Auto Repair program.
1972 - Frances Ring became editor of Westways and increased its literary output. 
1974 - Auto Club co-founded Commuter Computer to aid Los Angeles-area ridesharing and reduce traffic congestion.
1982 - Processing Center opened in Costa Mesa to house insurance operations and systems.
1983 - Auto Club began offering homeowners insurance to its members.
1984 - Auto Club began repair skills contest to encourage high school students to consider careers as auto technicians.
1990-1999


1995 - AAA Plus® was created to provide enhanced member benefits. 
1996 - Auto Club began offering services online.
1997 - The Processing Center doubled in size to become the Administrative Offices. 
1999 - Club became a title sponsor of National Hot Rod Association Finals.
2000 - Auto Club celebrated its centennial.
2001 - Auto Club began offering Licensed-to-Learn driver education classes.
2003 - AAA Premier®, the highest level of member benefits, was created.
2008 - California Speedway was renamed Auto Club Speedway in recognition of Auto Club sponsorship.
2010 to present
 
2011 - The Auto Club launched an alternative-fuel research program, including the lease of electric vehicles for daily operations.
2012 - Electric-vehicle charging stations were added at Auto Club locations in Los Angeles and Orange counties.
2016 - Auto Club Enterprises websites reached a record of more than 30 million annual visits.
Videos from the Auto Club archives
The Auto Club documented its work in photographs and film. Its signposting crews, surveyors, and highway engineers left an extensive visual record, and its safety educators produced movies to teach safe habits to children and adults.  These videos draw on this rich trove of imagery from the Auto Club's archives to provide unique glimpses into the evolution of car culture in Southern California.