Auto Club history
Serving members for more than 100 years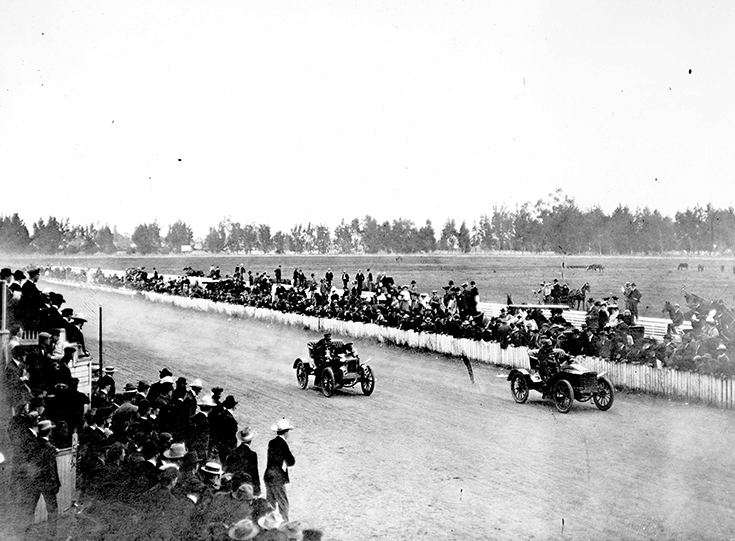 The history of the Auto Club
The Automobile Club of Southern California was founded in 1900 by 10 Los Angeles-area businessmen and professionals. Over the years, it has expanded to offer membership, insurance, travel, discounts, financial, and of course automotive services to more than 7 million members. Learn about some of the Auto Club's highlighted achievements to help us celebrate 12 decades of history.

1900-1924 highlights

The Auto Club has been around longer than ice cream cones, the Lincoln penny, the Pulitzer Prize, and Social Security. 

Older than the World Series and the Panama Canal, the Auto Club has lasted because the 10 founders addressed a real need by forming a club for motorists, and creating a culture of service toward member needs that continues today. Although few Southern Californians owned automobiles in 1900, over the ensuing decades, the growth of the Auto Club and the region intertwined as the automobile shaped life and culture in Southern California. 


The Auto Club also distinguished itself by identifying and addressing problems members faced on the road. For instance, there weren't enough roads. By 1923, more Californians had cars, and traffic was increasing at a staggering rate. The Auto Club worked with cities, counties, and the state, lobbying for new road construction and the funds to pay for it.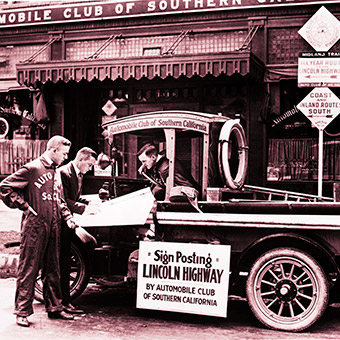 Increased automobile use meant people ventured into unknown territories frequently, and needed better marked pathways. The Auto Club pioneered the way with road signs specifically designed for automobiles.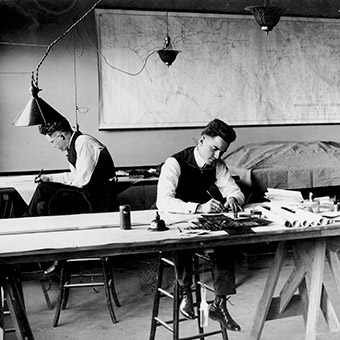 Information on locations and distances gathered from posting road signs evolved into the first of the Auto Club's countless maps, a wayfinding resource that members continue to rely on to this day.
First called Touring Topics (with a 1934 name change to Westways) the member magazine has served as a reliable and ongoing source of member information and entertainment for more than 110 years.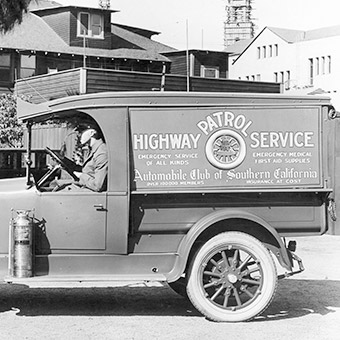 Emergency Roadside Service (1924)
By the 1920s, automobiles played an increasingly indispensable role in people's lives. Breakdowns were inevitable, and the Auto Club inaugurated emergency roadside service, which remains a signature member benefit.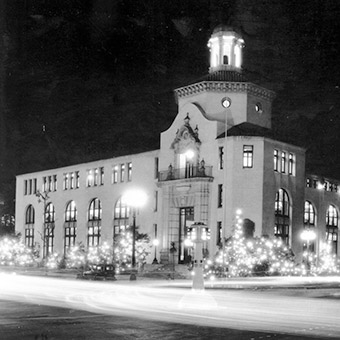 1908 - Auto Club began issuing license plates as an agent of the State of California.
1912 - Affiliate Inter-Insurance Exchange began to offer insurance to Auto Club members
1913 - The first Auto Club branch office opened in San Diego.
1914 to 1915 - Auto Club mounted signs to mark the National Old Trails Road, later known as Route 66.

1916 - The Forwarding Department was established to ship members' cars and later expanded to travel services.
1921 - Public Safety Department formed to educate students on traffic safety.
1923 - Auto Club Headquarters building opened at Adams Boulevard and Figueroa Street in Los Angeles.
1925-1949 highlights 

By 1925, the Auto Club established itself as one of the largest motor clubs in the world.
 
Much of its growth mirrored Southern California's economic boom of the 1920s, and by 1930 the need to enlarge its headquarters was evident. The Auto Club's member magazine expanded its own horizons and changed its name in the process. The years of the Great Depression brought belt-tightening, and World War II intensified the focus on the home front in winning a global conflict. With hostilities over, America embraced a brighter future.


The Auto Club also distinguished itself by identifying and addressing problems members faced on the road. For instance, there weren't enough roads. By 1923, more Californians had cars, and traffic was increasing at a staggering rate. The Auto Club worked with cities, counties, and the state, lobbying for new road construction and the funds to pay for it. And with automobiles occupying an increasingly prominent role in everyday life, the Auto Club's DMV services grew into a much-valued benefit of membership.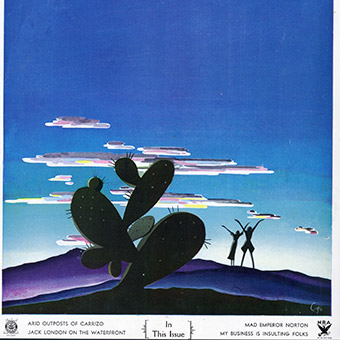 Under the direction of editor Phil Hanna, the member magazine broadened its editorial scope to encompass the varied geographical and cultural landscapes of the Southwest. The cover art program began in recognition of a magazine cover's role in creating a positive first impression.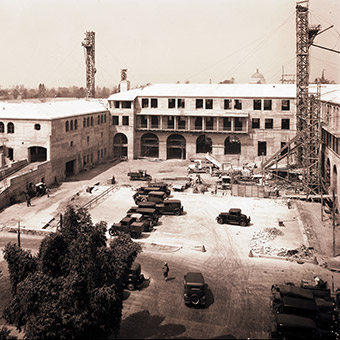 Headquarters Expansion (1930-1931)
The Auto Club's headquarters in Los Angeles more than doubled in size after an early 1930s expansion, in response to dramatic increases in membership that paralleled regional expansion in the 1920s.
The Home Front (1942-1945)
The Auto Club promoted conservation efforts plus rationing and scrap drives, and created special maps and signs in support of home front defense activities.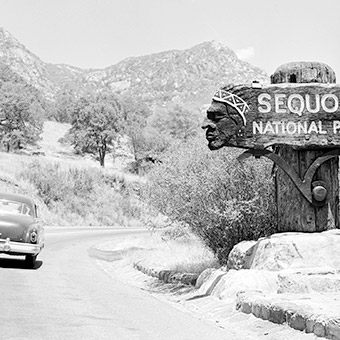 Postwar Prosperity (late 1940s)
The economic boom that followed the war brought a renewed focus on leisurely pursuits, including the all-American activity: the road trip.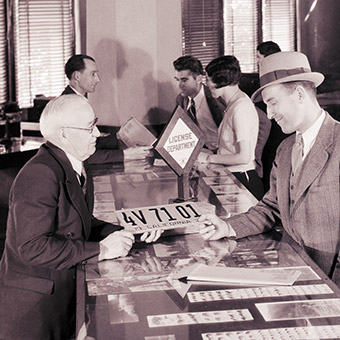 1934 - Touring Topics was renamed Westways to signify its broader cultural mission.
1937 - Auto Club engineer Ernest East proposed a network of freeways for Los Angeles.
1938 - Auto Club provided registrations for more than 170,000 member vehicles.
1946 - Westways resumed its cover-art program, showcasing the vibrant California watercolor movement.
1950-1974 highlights

The Auto Club celebrated its 50th birthday in 1950 and over the 25 years that followed, kept pace with the growing demand for its services. 
As Americans emerged into a brighter future after years of war and economic hardship, so too did the Auto Club rise to the challenge of a membership boom and an era marked by pent-up demand and dramatic economic expansion. The branch office network kept pace with a raft of new office construction. Travel services in those branches now included greater foreign travel options, and the period saw the introduction of computer technology to improve member service. 
Air pollution became an increasing concern in this age of the freeway. In response, the Auto Club undertook important roles in vehicle emissions testing and research. The Automotive Research Center opened in 1967 to address pollution and automotive safety issues, while the Approved Auto Repair Program started in 1970 to promote improved automobile maintenance. In a sign of the times, the Auto Club issued its first Fuel Gauge Report informing members of gas prices and supply as the country grappled with a major oil embargo in 1973.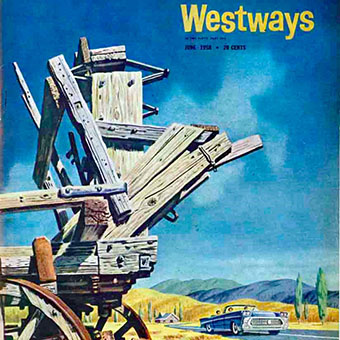 Artist Ham Wegner's June 1958 Westways cover captures the scenic landscapes and sense of adventure that awaited families hitting the road on a family vacation.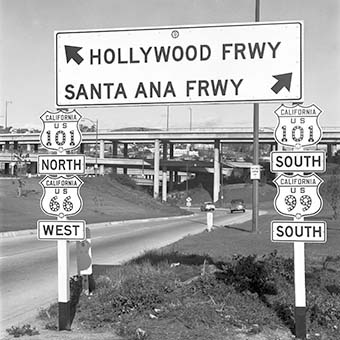 The 1950s marked the beginning of extensive freeway building in America, here symbolized by the Los Angeles 4-level interchange, which fully opened in 1953.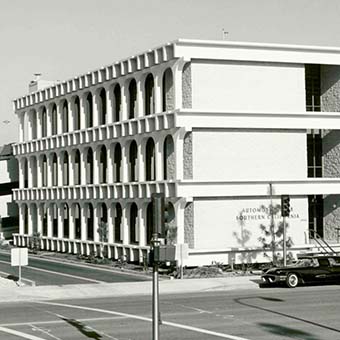 The Welton Becket and Associates mid-century design for the Auto Club's Century City branch (opened 1964) represented a striking departure from the Auto Club's preferred Spanish Colonial Revival style, featured in so many branches built in the 1920s through 1940s.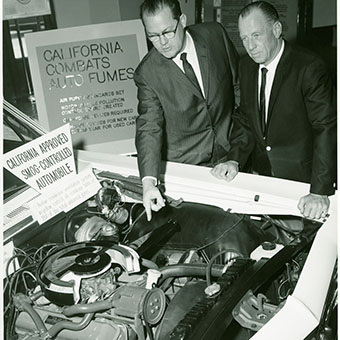 Auto Club Executive Vice President Joseph Havenner points out a smog control device to Los Angeles Mayor Sam Yorty in this 1967 image. The Auto Club's Automotive Research Center opened the same year to study air pollution and test vehicle emissions.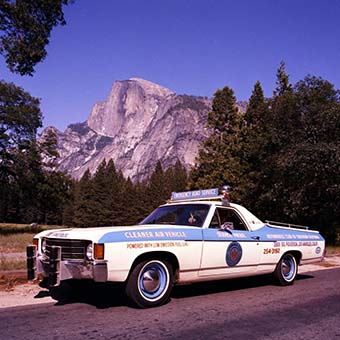 1957 - Foreign and Domestic Travel Department formed.
1963 - Auto Club conducted emissions tests on 1,000 cars in cooperation with the California Motor Vehicle Pollution Control Board.
1970 - Auto Club began rating car-repair facilities, a service that became the Approved Auto Repair program.
1972 - Frances Ring became editor of Westways and increased its literary output. 
1972 - An Auto Club Service Patrol El Camino powered by liquified petroleum gas poses before Yosemite's Half Dome in this colorful 1972 scene. The Auto Club conducted large-scale feasibility studies for the use of alternative fuel fleet vehicles beginning in the 1960s.
1974 - Auto Club co-founded Commuter Computer to aid Los Angeles-area ridesharing and reduce traffic congestion.
1975-Present highlights
With the arrival of a new century, the Auto Club marked its centennial while focusing on the future of automotive travel and member services.
The decades on either side of the millennium were marked by increasingly fast-paced technological innovation. Auto Club services launched its first website, which evolved to become an important portal for member services.  Those services grew with the introduction of both homeowners and life insurance, a AAA-branded Visa credit card, and new levels of belonging with Plus and Premier membership. The Auto Club raised its brand profile in the motorsports world with naming deals at two prominent Southern California racing venues.
On the advocacy front, the Auto Club successfully lobbied to pass the Graduated Driver's License, part of its long-term commitment to traffic safety. The Auto Club outgrew its historic LA headquarters and moved its core business functions and leadership team to expanded digs at the Administrative Offices in Costa Mesa. The organizational footprint increased, too, with the acquisition of motor clubs in Texas, New Mexico, and Hawai'i. More affiliations brought about the creation of Auto Club Enterprises (ACE) with an expanded presence in 21 states.
The new Processing Center opened in Costa Mesa to house insurance operations and systems. In 1997, the Processing Center doubled in size and became the Auto Club's headquarters.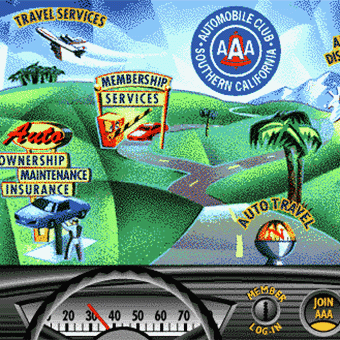 The World Wide Web (1995)
The Auto Club launches its first-ever website. The home page design mimics begin behind the wheel of a car, and the images use only a few colors to avoid straining slow '90s-era Internet connections.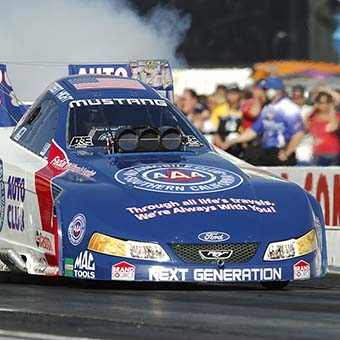 Auto Club Speedway (2008)
California Speedway was renamed Auto Club Speedway in recognition of Auto Club sponsorship.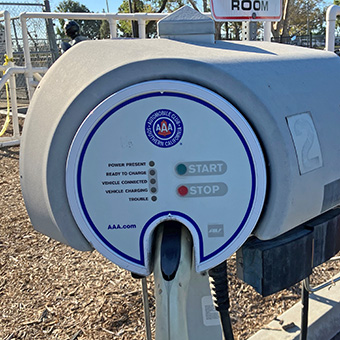 Electric-vehicle charging stations were added at Auto Club locations in Los Angeles and Orange counties, including the Administrative Offices.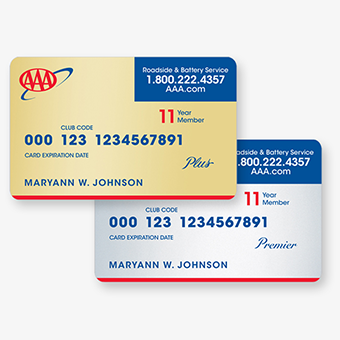 1983 - Auto Club began offering homeowners insurance to its members.
1984 - Auto Club began repair skills contest to encourage high-schoolers to consider careers in auto repair.
1995 - AAA Plus® was created to provide enhanced member benefits. 
1996 - Auto Club began offering services online.
1999 - Club became a title sponsor of National Hot Rod Association Finals.
2001 - Auto Club began offering Licensed-to-Learn driver education classes.
2003 - AAA Premier®, the highest level of member benefits, was created.
2011 - The Auto Club launched an alternative-fuel research program, including electric vehicles for daily operations.
2016 - Auto Club Enterprises websites reached a record of more than 30 million annual visits.
Videos from the Auto Club Archive
 
The Auto Club documented its work in photographs and film. Its signposting crews, surveyors, and highway engineers left an extensive visual record, and its safety educators produced movies to teach safe habits to children and adults.  These videos draw on this rich trove of imagery from the Auto Club's archives to provide unique glimpses into the evolution of car culture in Southern California.